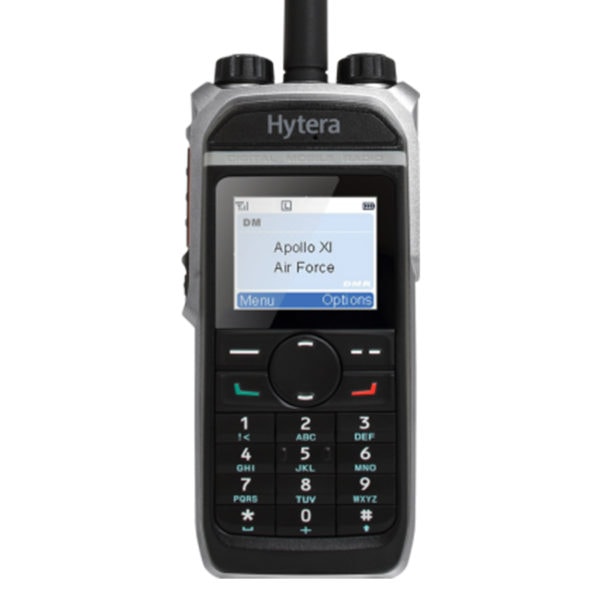 Hytera PD682 Handheld Walkie Talkie
Hytera's PD682 is the walkie talkie radio of choice for users who require a feature-rich device in a small and lightweight form factor. 
The 0-9 Keypad allows for free-form text messages to be composed and sent to other users on the radio network, whilst also providing the ability to set-up private one-to-one calls as well. 
Contact National Wireless today to discuss how this device can assist with your day-to-day operations, we'd be happy to help.
Download Hytera PD682 Handheld Walkie Talkie Brochure
Add your email address to download the Datasheet.
Features and Benefits

Small and Light

Dimensions of 122x54x27mm and weighing in at 310g, the PD68x is one of the lowest profile portable radios on the market. The PD682's low-profile ensures discretion and comfort, improving usability and fatigue for users in the field

Large colour screen and full 0-to-9 keypad

Allows users to take advantage of advanced digital features such as free-form text messaging, private calls to specific radios, and caller ID. All of which add to the user experience whilst improving productivity by allowing managers communicate more efficiently

Heavy duty poly-carbonate and metal construction

An ingress protection rating of IP67 (dust tight, and resistant to submersion under water). Save on ongoing repair and replacement costs for your radio fleet

First class audio quality

Digital technology eliminates the static and ambient background noise previously heard on analog radio communications, allowing calls to be heard clearly the first time – improving productivity and usability of the system as a whole

Analog and digital capable

Migrate to digital at your own pace with the PD682, allowing you to work within your organisation's budget while still remaining compatible with existing analog standards (eg. 5-Tone signalling)

Supports a number of optional applications

Including GPS tracking and man down, among many others. Utilise digital technology to ensure the safety and well-being of your team
Specifications
Available in VHF 136-174 MHz, UHF 400-527 MHz