Basic Trouble Shooting
Are your radios driving you crazy?  Causing drawn-out frustration? Losing productivity? 
National Wireless has collected a list of common Q&As regarding two-way radio trouble shooting. Before sending away the radio for repair have a look here and see if we can solve your issues instantaneously. 
We also recommend you read the best practice recommendations – to ensure you are using and maintaining your radios for maximum performance and longevity.
Drawing from decades of experience, here are some common troubleshooting tips for two-way radios:
Radio won't turn on
If your radio has a display screen, you can check its battery charge status as indicated on the screen. If there's no display, when turning on the radio, you can listen for a power on beep.

It can be helpful to try a battery swap: take a battery from a functioning radio of the same type, insert it into the malfunctioning radio.

If the radio does work then you have isolated the problem, your battery is probably faulty.

Check your batteries. Batteries have a limited life span of a few years depending on usage; each battery is marked with a date code (see picture below to locate the date code on the battery). 
| | |
| --- | --- |
| | |
| This is an example of a Hytera radio battery's serial number which includes the manufactured date. It's the first 3 numbers. Eg159 is 2015/September.  If there is an O, N or D. This represents October, November and December.0 | The four-digit code, highlighted in a red box above, is an example of a Motorola radio battery's date of manufacture code.  The code above translates to 2017 / Week 15. |
You can also check the LED light indicator on the radio's charger. If your radio doesn't seem to be turning on, place it securely in the charger, making sure the contacts of the battery align with the contacts of the charger. Look at the LED light and note what colors are displaying and in what pattern. Check this against the documentation provided with your radio to see what issue is occurring.

If your battery is less than two years old and you believe it is faulty, please visit our Equipment Repair Centre or call us on 02 4964 1533 to organise a warranty assessment. Please note batteries are considered dangerous good by freight companies and restrictions apply.
Battery / Batteries aren't charging
Your charger has an indicator light that displays when it is turned on and changes colour when a radio is inserted into the charger. If the lights are not displaying, check the charger is plugged into a working power source. Check the power point by swapping to another. 
It is useful to know, when charging, about 80% of charge is gained quite quickly, after which the remaining charge can take just as long to be topped off.
If there is a fault with the charger visit our Equipment Repair Centre page, for more information on sending it in for repair.
Battery Safety
You must immediately remove batteries with any signs of physical damage. This damage can include:
Swelling
Modification (e.g. end-user adaptation, label removal)
Physical impairments (e.g. casework, latch, impact)
Corrosion, dirt and debris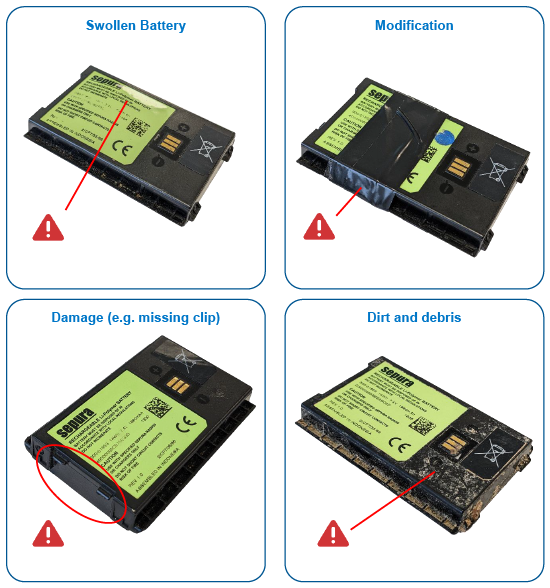 Antenna
Radios can malfunction if the antenna is loose or installed incorrectly. Using the incorrect antenna can result is poor coverage.

Start by removing the antenna by turning in a counterclockwise direction.

Look to ensure you have the correct antenna type for your radio — the standard whip antenna, which is long and thin, or the stubby antenna, which is much shorter. The antenna will have either a pin or a flat connector; look at the connector base on the radio and make sure it's the correct shape to fit the connector, pin or flat. Also look at the antenna and see whether it has a frequency or colour band on it. Look at the model number on the radio label and check the documentation for that radio to see if you should be using it on the UHF or VHF frequency band; make sure you have the appropriate type of antenna for that frequency band. If you appear to have the correct type of antenna, reinstall it by turning it in a clockwise direction and turn the radio back on. 

If the plastic coating on your antenna is visibly damaged, it must be replaced. This poses a safety risk as it can cause an RF burn. 
If you have the wrong antenna or your antenna is damaged, click here or call us on 02 4964 1533 to order a new antenna.
Safe Radio Use
Never put a radio antenna near your eye socket, use carry accessories that position it safely, whilst maintaining optimal audio. We highly recommend remote speaker mics or audio accessories which allow you to position your radio away from your head, whilst enabling communications.
Click here to read more about RF safety and EMF guidelines.
Poor Audio quality
There are many reasons why you might experience poor audio quality with your two-way radios:

Harsh conditions in an industrial environment may be the cause of the problem. Check for iron filings or in the case of the coal industry, magnetite, located on mics / speakers.  The mic hole can be blocked causing the audio to sound muffled.  Check the radio is clean and the mic is clear. 
Not holding the microphone around 50mm from the mouth can result in poor transmit audio quality.
If you still have audio quality problems, visit our Equipment Repair Centre page for more information on organising an assessment and repair.
Is it your Radio or your System?
If multiple handsets are on a channel and only one radio experiences poor quality, it is likely to be that specific unit rather than the entire system.
Inconsistent and poor sound quality across multiple units within the same area may be a sign that the system is contributing to the problem.
Infrastructure should be inspected on a regular basis as degraded performance affects the whole system. This can slowly degrade over time.
Visit our Equipment Repair Centre page for more information on organising an assessment and repair.
[/accordion-item]
Best Practices for Using Two-Way Radios
Best Practices for Using Two Way Radios
Let's face it: Sometimes the problems that folks are having with two-way radios aren't being caused by the devices. In two words: User error.
Using radios correctly will solve a whole host of problems. Radios are meant to be intuitive, but they do require training, not just once but on an ongoing basis.
Pass along these radio best practices and see how many radio "problems" disappear:
Hold two-way radio 50mm away from the mouth while speaking.
Speak clearly to make sure messages are heard as others may be in a difficult noise environment.
Press firmly on the PTT button and mentally count to 'one' before commencing to speak, to guarantee messages are fully transmitted.
Best Practice for Maintenance and Storage
Best Practice for Maintenance and Storage

Proper maintenance and storage can reduce the chances of damage to two-way radios, making them last as long as possible. Daily maintenance of the handset as well as good battery practices can also indirectly help with sound quality.
With these tips for two-way radio maintenance, your communication will continue seamlessly for the estimated four to seven years that your radios are expected to last.
Turn radios off when charging or not in use.
Clean radios with a microfiber cloth and a little water. The cloth's soft texture will wipe away dirt and smudges without damaging the unit. For more stubborn stains and marks, use a damp cloth and wipe until radios are clean.
Don't hold or grab radios by the antenna. Consistently using the antenna as a handle will eventually affect transmission and reception.
Only use batteries and chargers that are compatible with the device. Once you've identified accessories designed and specified for your unit, keep them dry and only charge as needed. Overcharging batteries can decrease their lifespan.

Storage best practices:

Turn off radios and remove batteries before storing. Depending on the chemistry type, batteries will self-discharge and may need charging before putting back into service.
Do not store radios or batteries in active chargers. 
Store equipment in a dry and cool space with limited exposure excessive heat or cold, and the various elements of sunlight and water.