Case Study: Intercontinental Hotel Sanctuary Cove
Intercontinental Hotel Sanctuary Cove situated at the northern end of the Gold Coast, is a five-star resort hotel with a 1940's inspired grand homestead design. It is set amidst lush, tropical gardens and is surrounded by championship golf courses and 300 berth marina; it is colonial in design and offers a unique blend of Australian hospitality and sophistication.
AN AGING TWO-WAY RADIO SYSTEM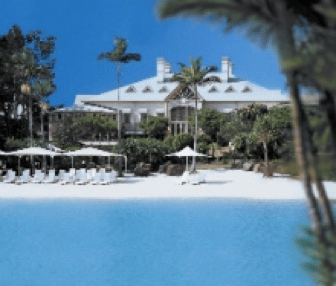 As it had become critical for Intercontinental Sanctuary Cove to replace their aging two-way radio system, they embarked on a process of sourcing and evaluating a reliable, rugged, group-orientated communications system that also provided telephone and paging functionality.
After looking at available technologies the management team at Intercontinental Sanctuary Cove selected Tetra as the most appropriate technology to meet their requirements.
---
COMMUNICATIONS NEEDS
The communication solution had to offer complete 2 way radio coverage of all buildings and surrounds, in order to obtain a high level of service and security for Intercontinental Sanctuary Cove's guests and staff.
A key criterion for staff and management was to have the ability to passively monitor specific work groups to enable greater awareness of each department's work-flow. Another of Intercontinental Sanctuary Cove's key requirements was to have the ability to have one-to-one contact with any individual whether by means of radio-to-radio or phone-to-radio communications.
Subscriber unit functionality was also required to incorporate;
Text messaging – radio to radio, PC to radio, Radio to PC.
Alarm monitoring
Data transmission
Network expansion
---
NATIONAL WIRELESS COMMUNICATIONS SOLUTION
With 16 years of experience and a successful track record in major radio system implementation, National Wireless is a specialist in providing wireless communication solutions for our campus-based customers.
Following a thorough analysis of the Intercontinental Sanctuary Cove's needs including an extensive radio coverage survey, the team at National Wireless established that implementation of a tailored TETRA trunked radio system would be the ideal solution to meet Intercontinental Sanctuary Cove's campus based information communication needs.
TETRA technology is the smart choice in digital radio communication; whether it is required for a single site system like Intercontinental Sanctuary Cove, or multiple sites for area wide coverage. The system is based on IP technology that connects the system site controller to the base station, as well as to dispatchers, local area networks, PABX systems, network management facilities and external gateways. This level of integration and functionality means that Tetra is one state-of-the-art infrastructure.
Put simply Intercontinental Sanctuary Cove's TETRA radio system provided the degree of functionality that they sought whilst providing an expansion pathway for growth in functionality and RF footprint. Further to this, the TETRA technology is an international open architecture standard that allows a future proof technology foundation.
---
BENEFITS TO Intercontinental Sanctuary Cove
Intercontinental Sanctuary Cove's management required a communications system that was robust and future proof which also had the ability to seamless integrate into existing organisational systems and procedures allowing for improved guest services. The TETRA digital system offered not only that, but also additional benefits including;
Extensive radio coverage as required
Zero radio interference from other departments
Zero noisy corridors
Zero cost for internal phone calls
Ability to dispatch work directly to specific personnel via one to one call.
Ability to divert PABX phone calls to roaming on-duty staff during the evenings or busy periods
Ability to call any one person or a group of people from any telephone
Flexibility with expansion capabilities
Tough lightweight radios
Radios and software interfaces that were easy to use.
After the successful installation of the TETRA digital system, Intercontinental Sanctuary Cove management team now achieves a significantly greater level of efficiency and effectiveness with their on-site communications.