Wireless communications systems are integral to the productivity of an organisation and the safety of its employees. It is vital that your communications equipment is always working to its full capacity. Production down-time due to communication failure is NOT an option!
Log An

Onsite Service Request
We are equipped with specially fitted service vehicles and highly qualified and experienced technicians, ready to deal with your service requirements.
National Wireless has invested in the latest service and test equipment for our National repair Centre and are well positioned to offer the highest levels of expertise to our customers.
Recent developments in wireless communications technology, now enable us to diagnose and repair faults remotely; where possible this allows us to assist with equipment faults in a faster time frame and at a lower cost to you.

For urgent service or maintenance enquiries, please call: 02 4964 1533. Our service administrators will answer your calls and ensure your requirements are dealt with smoothly and efficiently.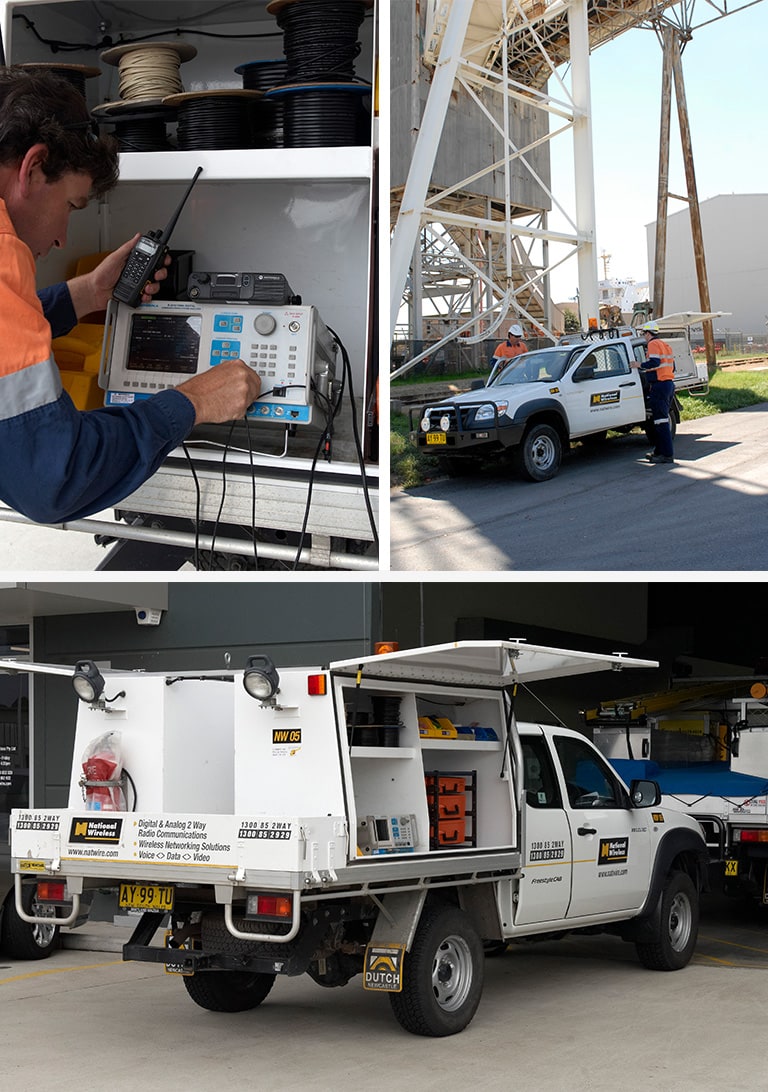 We are equipped with specially fitted service vehicles and highly qualified and experienced technicians, ready to deal with your on-site service requirements, whether they are planned maintenance or an unexpected outage.
There are many components in radio systems which need to be tuned to work together. Over time subtle variances can occur which may result in reduced performance. Performing regular preventative maintenance at least annually can ensure equipment is working optimally and reduce the probability of a complete communications failure.
National Wireless can respond to your service requirements on an ad hoc basis, or we can provide you with a Support Plan. In either case we highly recommend an annual Preventative Maintenance Inspection of your radio communications and wireless networking infrastructure.
National Wireless Support Plans
A Support Plan is an agreement with National Wireless to ensure resources and materials support – guaranteeing your system functions optimally. National Wireless will design a support plan to suit your requirements.
There are three main components of a Support Plan:
Planned preventative maintenance works
Unplanned restoration works
Improvement works
An additional benefit of a Support Plan is site familiarity. Our staff will already be inducted on your site, know where key pieces of infrastructure are and who their key contacts are. We will be able to come in and restore your communications quickly and efficiently, without the delay of being inducted. Induction requirements could delay system restoration by as much as a day. Consider National Wireless an extra member of your team!
Typical inclusions in a National Wireless Support Agreement:

Business hours phone and email support

Annual Preventative Maintenance Inspection

Remote diagnostics and, where applicable, restoration

After hours telephone support

After hours emergency site call out

Licence management

Firmware updates

Typical Inclusions in a Preventative Maintenance Inspection:

Annual infrastructure health check

Antenna testing

Associated applications testing

System radios assessment – more efficient review individual radios when we do your PMI than sending them in as they break

Coverage Survey

Call National Wireless on 02 4964 1533 for more information regarding Support Agreements or to book a fixed price Preventative Maintenance Inspection.